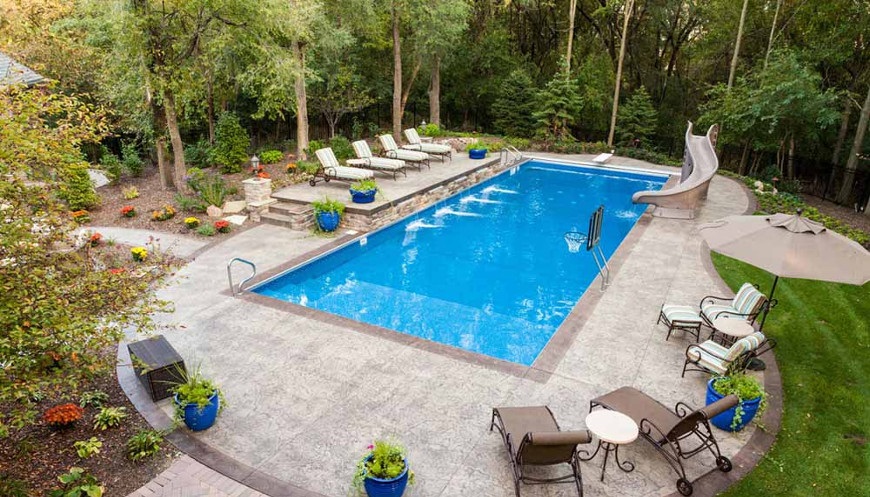 In Ground Pools
Naqua Tech LLC offers a wide range of inground pools, such as Polymer, Steel, and Fiberglass.
Naqua Tech is exclusive Latham dealer having access to Fiberglass Pools from Blue Hawaiian, Steel Pools and Polymer from Pacific Pools and imagine Pools.
Pacific Pools - In-Ground Pools
Pacific Pools-Far from ordinary
When you choose Pacific, you get the confidence of working with a company with over 50 years of experience in the manufacture of inground swimming pools and unshakable commitment to customer satisfaction. A Pacific Pool reflects the natural beauty of its owner's home, lifestyle and taste!
A Pacific Pool is a true extension of its owners' personality, whether they entertain friends or associates, throw parties or just have family get togethers. A Pacific Pool combines innovative design with years of maintenance free quality. The latest technology. The greatest durability. The most complete palette of shapes and sizes and options that are backed by a lifetime warranty.
Blue Hawaiian - Fiberglass Pools
Bring the Tropics to your backyard
A Blue Hawaiian pool not only offers many hours of entertainment,it offers you the impressive health benefits of regular swimming right in yourown backyard. With minimal maintenance and no need for resurfacing likeconcrete pools, a Blue Hawaiian fiberglass pool is the smart choice for savingboth time and money
The smooth, easy-to-clean surface inhibits algae growth, requiring less cleaningand scrubbing with harsh chemicals. For about 30 minutes of upkeep a month,you can enjoy a backyard oasis that's truly rejuvenating!
Because Blue Hawaiian pools are non-porous, fewer chemicals are neededbecause algae is less prone to attach to smoother surfaces. Fiberglass poolsoperate on lower chlorine levels, regardless of whether a salt water chlorinatoror traditional chlorine is used. Less chemicals and energy is good for yourfamily, the environment—and your wallet!
Imagine Swimming Pools
Imagine Pool is more than a swimming pool
An Imagine Pool is more than a swimming pool – it is a swimming pool of unique and sophisticated design, technology and technique. It is an unwavering dedication to quality and innovation. It's the belief that happiness is best  experienced with loved ones at your side, enjoying an Imagine Pool in your home.
Learn more about Imagine Pools and the ways we strive as a company to provide you with the perfect accent to your very own backyard paradise with the newly-released company overview video. Subscribe to the Imagine Pools YouTube channel for more as we release it.
PACIFIC VINYL LINERS
Often imitated, but never duplicated.
Pacific was the first to introduce 3-D pool liner patterns in 1994 and continues to be the design leader today. Patterns that look so realistic you have to touch them to see if they're hand made tiles from Spain or the finest mosaic tiles from Italy. Think about it, when your pool is completed, one of the only remaining components left to the eye is the liner. That's why we don't just settle on offering you the same old ho hum patterns that everyone else has. We offer true uniqueness.
Complement your pool design with an attractive designer pool liner from Pacific Pools. Unlike concrete and fiberglass, our vinyl pool liners are easy to clean, soft to the touch and look fantastic. Our liners are strong and durable, made from the finest virgin vinyl available and treated with a special fungicide to inhibit bacteria growth and protect your family's health. Virtually maintenance-free, the smooth surface of a vinyl liner is far easier to clean than other pool surfaces. Designer pool liners from Pacific Pools look and feel great, too.
Soft vinyl surface won't scratch skin or snag swimsuits
All liners are treated with special UV-inhibitors to keep them looking like new for many years
Available in a variety of colors and patterns to customize your pool
View Pacific Vinyl Liner patterns and information Click here