Our Products
Naqua Tech carries a full line of products to address all of your pool and spa needs.

We feature a full line of Hayward Pool Products®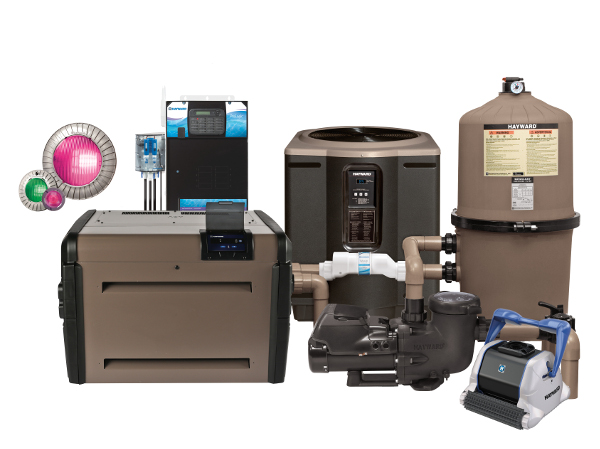 Certain factors such as age, neglect, and the elements can leave your pool looking tired and worn. Naqua Tech can update your pool with equipment, concrete, liner, and plumbing, restoring it to brand new again. We can also install new features such as an automatic pool cover.
Naqua Tech is your local choice for:
Complete line of made in the USA EZ Chlor chemicals for pools and spas, Hayward equipment, pumps, filters, and heaters
Parts for all brands of equipment and pools
Vinyl liners for in ground and above ground pools
Winter covers
Safety mesh and solid covers
Automatic pool covers
Solar covers
Equipment covers
Full line of maintenance equipment, brushes, vacuum heads, poles, hoses, and more
Automatic cleaners for pools, spas, and more
Full line of accessories for all your pool needs
Pool Pumps - Featuring the EcoStar Variable Speed Pump
Born to run, built to last
Hayward EcoStar® variable-speed pool pumps provide best in class energy efficiency for most any pool and spa combination, including upgrading the majority of single speed models up to 3 horsepower (hp). Designed for medium to large pools, they can save up to 90% on energy costs or as much as $1500 per year, compared with single speed pool pumps.
EcoStar SVRS (Safety Vacuum Release System) provides an added layer of protection against suction entrapment without additional equipment, plumbing or wiring.
Pool Filters - Featuring Hayward SwimClear™
Large capacity cartridge filters
Wish there was a way to clean your pool's filtration system without pouring gallons of water into the environment? SwimClear™ large-capacity cartridge filter delivers. No backwashing; instead, you just rinse the filter elements with your garden hose, saving you up to 2,500 gallons of water every season.
Choose from 225, 325, 425 or 525 square feet of heavy-duty, dirt-holding capacity for extra-long cleaning cycles; this can translate to up to an entire season without cleaning! Another energy-efficient benefit is that the SwimClear doesn't require a multi-port valve, thereby using less electricity.
Pool Heaters - Featuring Hayward H-Series Low NOx
Induced Draft Heaters for inground pools
High performance. Low NOx. The new Hayward H-Series Low NOx Inducted Draft Heaters feature a patent pending Finn Plate™ heat exchanger for constant heat disbursement.
State-of-the-art pre-mix burners for environmentally friendly Low NOx outputs, hot surface ignition for instant and reliable fire up and advanced L.E.D. digital control panel for simple programming of pool temperatures.
Pool Management - Featuring Hayward Pro Logic Total Pool Management
All the controls you need to control costs
Wouldn't it be great if with the simple touch of a button you could control your pool and spa water temperature, lighting, pH, filtering and more?
Pro Logic™ the energy solution to complete pool automation is a scalable, flexible Total Pool Management control that makes all this a reality.
Pool Cleaners - Featuring Hayward Robotic Cleaners
Dirt Can Run but it cannot hide
Robotic cleaners are our most enegry efficient automatic pool cleaners. They are 94% more energy efficient vs most pressure cleaners.
Pool Lighting - Featuring Hayward Lighting ColorLogic®
Forget about lighting as you know it
Now there's new ColorLogic® L.E.D. lighting. ColorLogic® patented Chromacore technology combined with a micro-processor and the brightest and longest performing L.E.D.'S in the industry to deliver high intensity and unmatched selection of colors. 12 preset programs and 5 fixed colors